Register in November for 2020 Soccer Season Online ONLY
Click on the link below for start your registation process:
http://qcsawestw.myclubmate.com.au/mydetails/
PLEASE ENSURE THAT YOU REGISTER EARLY AS PLACES ARE NOT RESERVED FOR RETURNING PLAYERS. THE TEAM POSITIONS ARE ALLOCATED ON A FIRST IN FIRST SERVED BASIS!
Westminster Warriors Soccer Club once again has online discounts for
early bird registration
.
Early Bird prices are when you register online and pay in full between 21 November and 21 December 2019.
Online registrations will then re-open on 7th January 2020, with the full price only. Available online as well as at our Sign On days to be held on Saturday, 1st February 2020 and Saturday, 8th February 2020, both 1pm - 4pm at the Clubhouse.
Tiny Tots (2-4yrs):
Early Bird $55
; Full Price $75*
Under 6, 7 & 8:
Early Bird $220
; Full Price $240*
Under 9 - Under 16:
Early Bird $280
; Full Price $300*
Under 17/18 Men:
Early Bird $320
; Full Price $340*
Snr Men, Snr Women & Over 30/40 Men:
Early Bird $360
; Full Price $380*
*Families with more than 1 player registering will get a $60 reduction off their fees for each additional player after the first. (This does not apply to Tiny Tot registration fees).
Muster Dates for 2020:
Under 6, Under 7, Under 8 and Under 9 to Under 15/16 players, once registered will gather on the dates below to meet your team officials and discuss training days and times. The equipment room will also be open for fee payment, the purchase of socks, shorts and player's travelling shirt collection (for those eligible).
When:
Under 6, 7 & 8:
Saturday 15th February 2020 @ 9am - 10am
Under 9, 10, 11, 12:
Saturday 15th February 2020 @ 11am - 12noon
Under 13, 14, 15/16
: Saturday 15th February 2020 @ 12noon - 1pm
_______________________________________________
Westminster Warriors Mascot.
Sir Westie the Warrior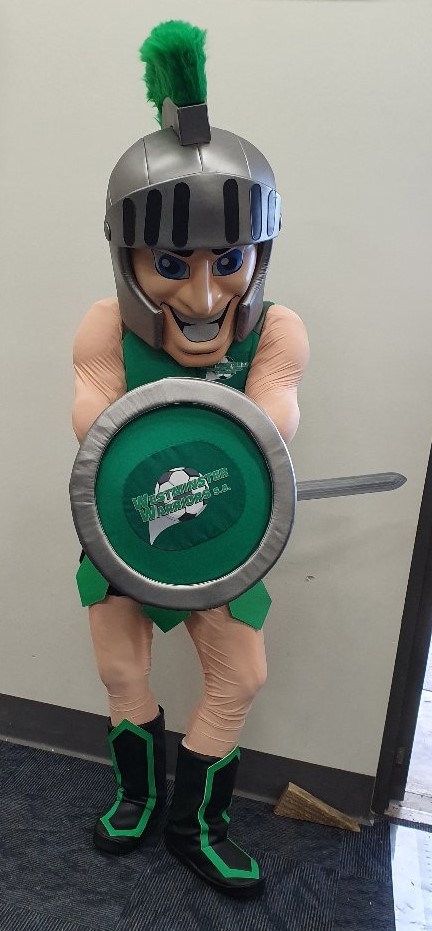 ___________________________________________
Containers for Change Program
Westminster has registered for the Containers for Change program and would be appreciative of any donations for your empty bottles, cans, containers, etc.

Our Scheme ID number is C10004660, you may only need the last 4 digits (4660), when selecting a Community club or scheme to donate your refund to.

We believe that the closest refund point is in Lifeline, 2 Shannon Street, Redbank Plains.

We appreciate your support and the funds will go towards upgrading of equipment and facilities for our players and members.

__________________________________________________
.
.
.
.
.